Training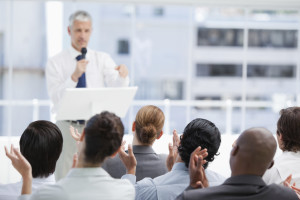 With the FDA holding companies accountable for the presentations of their representatives, speaker training and speaker bureau management is an essential industry tool – now more than ever. IBP has experience and expertise in developing and executing two types of training: representative and expert speaker. We dig deep to research your particular therapeutic area. We learn about your product and your company's background so we can best instruct your team for the future.
We offer two types of programs for representatives and your speakers:
Live meeting(s) for those who can come together at the same time.
Digital, eModule version to best suit those with busy schedules.
Both formats allow for your marketing objectives and key messages to be communicated, comprehended, and delivered with accuracy, consistency, and effectiveness.
When your team's spokesperson takes the podium, he or she must do so with great confidence – the type of assurance only an expert in a particular field could achieve. Our team trains individuals to become the most effective speakers and presenters in the industry. They will speak to motivate using effective public speaking coaching and string content delivery skills. When audience members leave a meeting or presentation, they will do so inspired by your message.
IBP specializes in training representatives of your team to become strong communicators of your team's messaging out in the field. Leading with a consistent, effective message can ensure a profitable future. This is your front line. We prepare this group to be ready to deliver an on-message, confident sales pitch and answer pertinent questions succinctly and with confidence.